My victorian pine floor has black wax all around the edge, will the sanding system remove all of this, or will there be a trace?
No, our system is so thorough all traces of the black wax will be removed.

Does the sander go right up to the edge?
Yes, not only does the sander go up to the edge but actually goes a couple of millimetres under the skirting board.

You advertise your system as 'dustless' will there be any dust?
Our system removes up to 98% of the dust, it would be impossible to argue the system was completely dustless, however, compared to conventional sanding systems ours leaves the room virtually free from dust.

Do you bang in the nails?
Yes, prior to sanding all the nails are punched in, and, all loose boards nailed down.

Does the system work on all types of wood floor?
Yes, we can sand any type of wood floor, including Herring bone, Parquet, finger mosaics, laminates, wide oak boards, in fact any type of wood floor you care to mention.

I don't like shiny varnishes. Is it possible to have a matt finish?
Yes, we offer four types of finish, the most popular being matt, but we also offer, silk,gloss and satin.

Will the floor be sanded flat, or will there be any sanding marks?
Our system removes all traces of sanding marks and leaves the floor with a mill pond surface.

We have removed the carpet and found part of the floor is concrete where we presume there was a wall, can this be rectified?
Yes, we offer a comprehensive service and can remove concrete and replace with boards, also we can replace damaged and rotten boards with stain matched boards.

Can you stain the floor?
Yes, we can stain the floor to any colour you require, and we can paint the floor if needs be.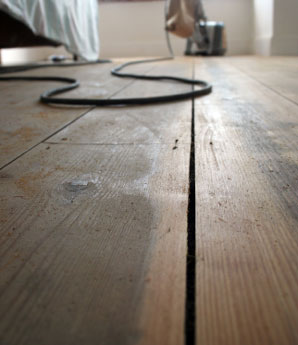 "The dustless system really works Gary, I thought you were exaggerating when you said there'd be no dust and the wife and I were expecting quite a lot of dusting after you finished. We certainly won't hesitate recommending you."
Mr & Mrs Porter, Sheringham, Norfolk.


For Carpet Cleaning, Upholstery & Sofa Cleaning, and General Floor Cleaning in Norwich & Norfolk please see our carpet cleaning website:

aardvarkcarpetcleaningnorwich.co.uk